We hope you enjoyed our virtual initiation (PDF) where we celebrated and welcomed new members who graduated in 2019, 2020, 2021, and 2022.
If you were not able to join us, you can view a recording of the event below:
Class of 2019: Tabitha Johnson
Class of 2020: Jordan Dias Correia, Alicia Rae Leathers, Jessica Kate Sheehan
Class of 2021: Dr. Drew Emanuel Berkowitz, Rachael E. Ciancarelli, Gregory William Dachille, Kiley M. Jolicoeur, Nora Ramsey, B. Austin Waters, Tyler Davis Youngman
Class of 2022: Alexis D. Boyages, Rebecca J. Hardin Davis, Katie Delezenski, Courtney K. Asztalos Hicks, Lori A. Mullooly, Kristin Keever Nalbone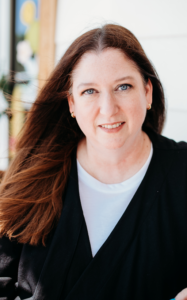 Our featured speaker was Adrienne Teague, a public librarian in Tulsa, Oklahoma, who earned her MLIS from the iSchool at Syracuse University in 2018. Affiliated with the Pi Lambda Sigma Chapter at Syracuse University, she is serving as the National President of Beta Phi Mu from 2022-2023.
Employed by the Tulsa City-County Library (TCCL) system for the past 15 years, Teague currently serves as a teen librarian for the Rudisill branch library. Noted for her work in reader advisory services, she has developed a program, Your Next Great Read (YNGR), which promotes reading to teens and young adults. She has also been recognized and awarded for her community education programs centering on the Tulsa Race Massacre which occurred in 1921 just blocks from where the current library building stands.
With several librarians in her family, Teague is pleased to continue the tradition. She enjoys advocating for libraries and encouraging individuals to consider careers in librarianship.