Awards a cash amount ranging from the cost of 3 graduate credit hours to 12 graduate credit hours.
Awardee is expected to contribute back to the fund upon gainful employment.
Awarded annually.
Next award date to be announced pending funding availability.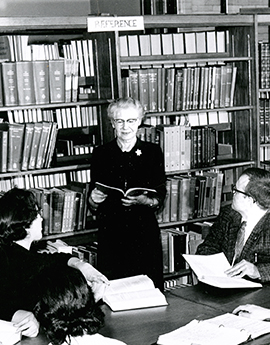 Dr. Florence R. Van Hoesen (1898-1979) was an Associate Professor Emeritus of Library Science at Syracuse University. Upon her death, she bequeathed an endowment to support deserving library science students at Syracuse University. Dr. Van Hoesen's generosity has helped librarians to complete their degrees since 1980. Dr. Van Hoesen's papers are held by the Syracuse University Archives.